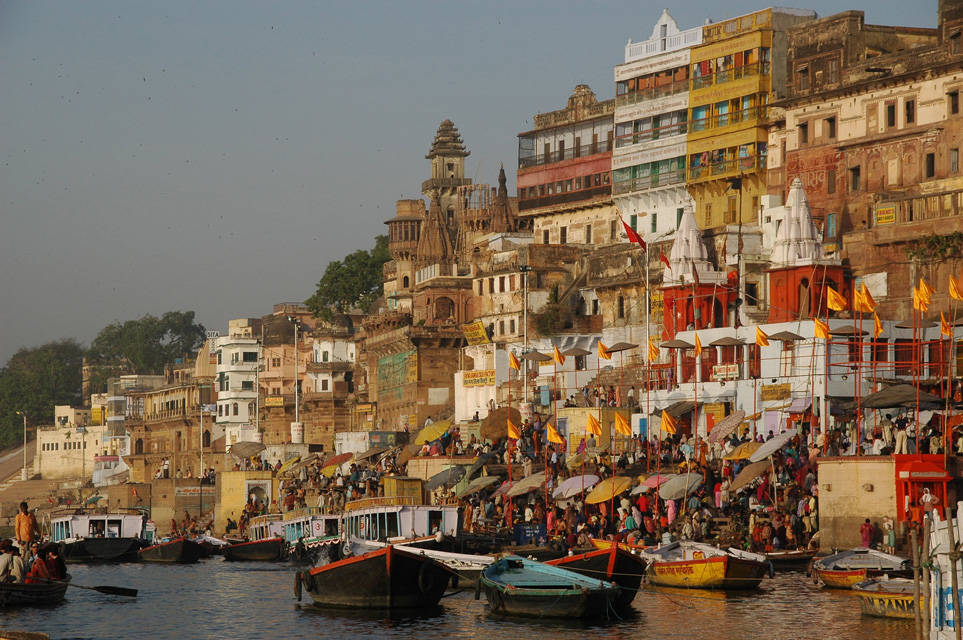 Began with the colonization of the population was about 1,000 years before Christ.
"City of Varanasi," located on the west side of the river Ganges. Originally titled "In Bed Rest" is a sacred city for both Buddhism and Hinduism. According to legend, the city of Varanasi was created by Shiva when almost five thousand years ago
Varanasi is a city situated on the banks of the River Ganges in the Indian state of Uttar Pradesh, 320 kilometres (199 mi) southeast of state capital Lucknow. It is regarded as a holy city by Hindus, Buddhists and Jains. It is one of the oldest continuously inhabited cities in the world and probably the oldest in India.
The Kashi Naresh (Maharaja of Kashi) is the chief cultural patron of Varanasi and an essential part of all religious celebrations. The culture of Varanasi is closely associated with the River Ganges and the river's religious importance. The city has been a cultural and religious centre in North India for several thousand years. The Benares Gharana form of the Indian classical music developed in Varanasi, and many prominent Indian philosophers, poets, writers, and musicians resided or reside in Varanasi, including Kabir, Satguru Ravidass, Trailanga Swami, Munshi Premchand, Jaishankar Prasad, Acharya Shukla, Ravi Shankar, Girija Devi, Hariprasad Chaurasia, and Bismillah Khan. Tulsidas wrote Ramacharitamanas here, and Gautama Buddha gave his first sermon at Sarnath located near Varanasi (Kashi)
Varanasi is home to four universities: Banaras Hindu University, Mahatma Gandhi Kashi Vidyapeeth, Central Institute of Higher Tibetan Studies and Sampurnanand Sanskrit University. Residents mainly speak the Hindi and Kashika Bhojpuri, which is closely related to the Hindi language. People often refer to Varanasi as "the city of temples", "the holy city of India", "the religious capital of India", "the city of lights", and "the city of learning."
According to legend, the city was founded by the Hindu deity, Lord Shiva, several thousand years ago, thus making it one of the most important pilgrimage destinations in the country.It is also a general belief that it stands on the weapon "The Trishool" of Lord Shiva. It is one of the seven sacred cities of the Hindus. Many Hindu scriptures, including the Rigveda, Skanda Purana, the Ramayana, and the Mahabharata, mention the city.
Varanasi is generally believed to be about several thousand years old. Varanasi was a industry centre famous for its muslin and silk fabrics, perfumes, ivory works, and sculpture. During the time of Gautama Buddha (born circa 567 BCE), Varanasi was the capital of the Kingdom of Kashi. The celebrated Chinese traveller, Xuanzang, attested that the city was a center of religious and artistic activities, and that it extended for about 5 km along the western bank of the Ganges.